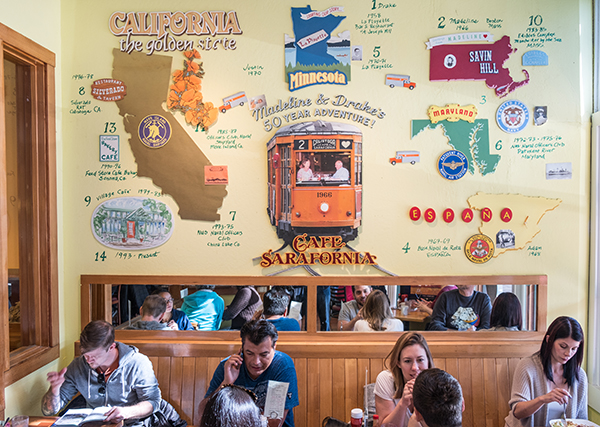 Last week we went to Calistoga. We drove there on a Thursday afternoon, and returned on Friday. The excuse for this short trip was to test how Max can stay overnight in his doggy care (he was fine) before our weeklong trip to Montana to visit the Glacier National Park in May. Instead of our usual route via Road 29, which we took on the way back, the GPS guided us to Santa Rosa, and from there, a relatively short drive on a winding road directly to Calistoga. This area was devastated during the horrific fire six months ago. Many burned trees were cut and littered the sides of the hills along the road. The traffic was delayed by the work on the power lines. Along the road we saw sites where there used to be houses, that are now vacant lots with only foundations left, with "for sale" signs. But when we arrived to our destination, it was like the war zone was over. In spite of the proximity, Calistoga was spared. There is some improvement construction work happening on the road by the entrance, which is expected to be finished in 2020; otherwise it seemed that the town has been frozen in time. We have not been here for at least ten years. But everything looked familiar, if not the same. Some establishments and some restaurants have changed owners, but for us it was like we were here yesterday.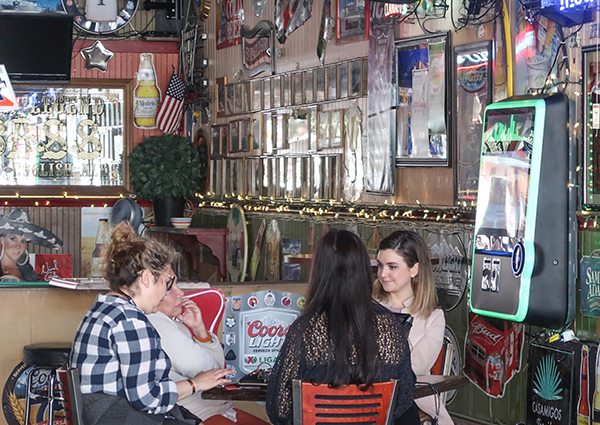 The restaurant where we dined had an enlarged photo on the wall that was photographed in 1928, in front of the Mount View Hotel. It depicted two black cars from the era (I suspect Fords). The men in the photo wore hats, even the boys. Women and children posed on the balcony of the second floor from where an American flag was hung. It looked like a different world, but was it? When I stepped out from the restaurant and looked up, I saw the same name on the building. The new owners changed the railings and I am sure that the fixtures in the bathrooms were replaced as well; otherwise, it seems that not much changed (besides the hats). We stayed at the Roman Spa Resort, where the main attractions are three mineral pools, each having a different temperature. After soaking in them for awhile, we drove back to San Francisco, crossing picturesque small towns and hills covered with young vines. After having lunch at a fully booked (on a Friday!) restaurant in Saint Helena, we ended up in Napa to enjoy some Three Twins ice cream. There we did not see any signs of the fire damage either, and discovered a delightful marketplace filled with different eating establishments and stores, and lots of shoppers. I strongly recommend (if you can) to take one day off during the week and visit the area before it gets crowded on the weekend. Life Keeps Going On!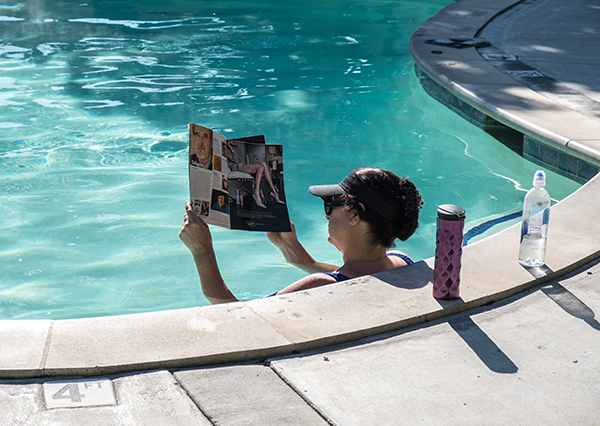 P.S. From the many photos I took, I've chosen four images, with one that I took at a red light, of a man with two delightful dogs. I used this image to replace another one in my forthcoming book "42 Encounters with Dog Lovers". Please pre-order to be one of the first to get it.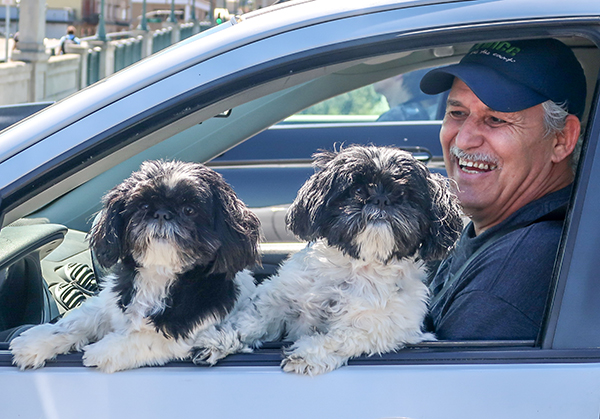 P.P.S. I received a number of interesting stories in response to the post last week, "Why to Have (or Not to Have) Dogs. I will add them to my Encounters in the weeks to come. Please share yours. Meanwhile, the first one is from Vivian Holley:
Hi Manny,
As usual, another great story.
I think as a result of your getting Max (and other reasons) I finally pressed Bryan harder about getting a dog and he finally said yes, but it would have to be an older dog.  Then he immediately found Gracie on our neighborhood watch.  She was being rescued from an animal shelter in LA.  It took 3 weeks to get her up here to Northern CA.  She's over 10 years old, had big time vet bills, but is so sweet even if she can't hear a thing!
We've put up with lots of peeing, lots of expenses, and in return we have lots of love and someone new in our lives we are always talking to and taking care of.  I've never seen Bryan so happy.  He rolls around on the floor with her playing games. She won't let him out of her sight.  We have to trick her to get her to let me walk her if she knows Bryan is around and all she wants to do is run back home to him.
We love her.
Thank you Max and Manny.
Love,
Vivian
Do Not Keep Me As A Secret!
Smile And Please SHARE It With A Friend!
Cheers,