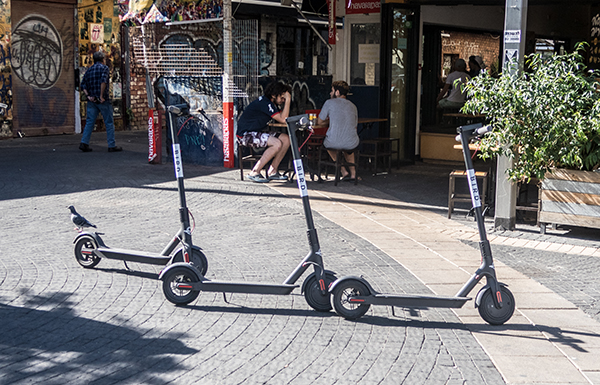 We returned from our trip to Israel at the beginning of November.  While there, I wrote six stories about our trip.  However, I decided not to bore you with them all at once.  There are three more to go.  Hopefully, after reading all of them, you'll decide to journey to Israel yourself.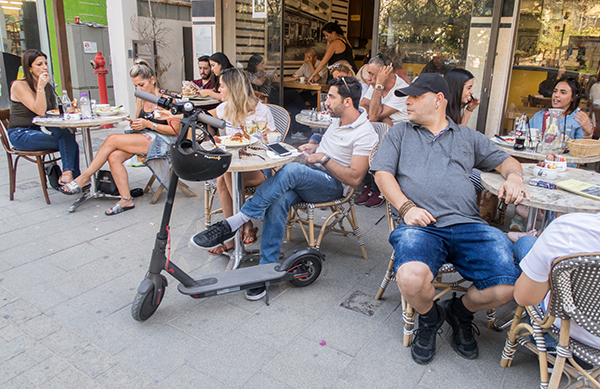 While walking through the streets of old Tel Aviv, I noticed a great number of young people, pregnant women, children and dogs.  On the internet, I learned that with an average of three children per family, Israel has the highest fertility rate in the Organization for Economic Cooperation and Development.  I was especially surprised to see many young people on Sderot Rothschild Boulevard, even after 10 p.m.  One of the reasons may be that Rothschild Blvd. has become the hub for new technology developments in Israel.  Like in San Francisco, where internet companies are leasing out the best spots downtown, beautifully restored Bauhaus design buildings which were built in the 1920s, have become homes for many of the leading tech companies in Israel.  But there was something else which struck me, as well.  Along the Boulevard, there is a bike lane with electrical bikes and scooters constantly zooming by.  I found an article online titled, "As Electric Scooters Take Over the World, Tel Aviv Stands First in Line". The article, which was published on September 30, 2018, describes the state of the electrical scooter industry.  It starts, "Rothschild Avenue, one of Tel Aviv's central traffic arteries, is jammed. A line of vehicles has been stuck here for over ten minutes on a standard end-of-August morning, waiting for salvation.  Meanwhile, at least a dozen electric scooters zip by driven by a variety of characters."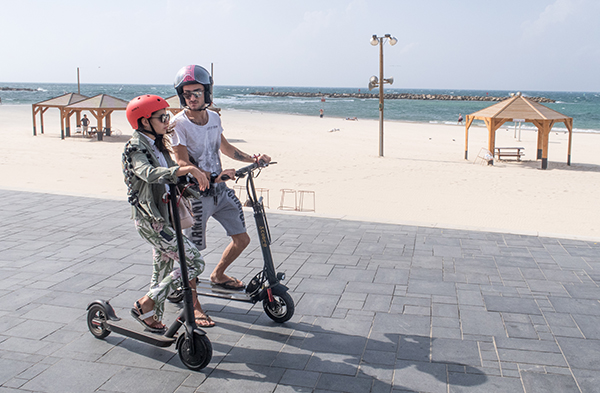 I noticed many different brands of scooters speeding by.  Besides the "BIRD" electric scooters, which you can rent, there are many other brands, which can be purchased for about $550.00.  Some are made in China.  There is also an Israeli company (50% owned by the Chinese), that manufactures and sells scooters under the name "INOKIM".  They expect to sell 14,000 units in 2018, for an average price of $2,000.00!
In comparison, San Francisco officials have recently authorized only two electric scooter companies that can be rented, totaling only 1250 units.  Being only 70 years young, Israel is definitely a young nation.  After all, San Francisco is one hundred years older. Is it therefore more mature, since it was reported that in Israel there are many casualties from electric bike and motorized scooter road accidents?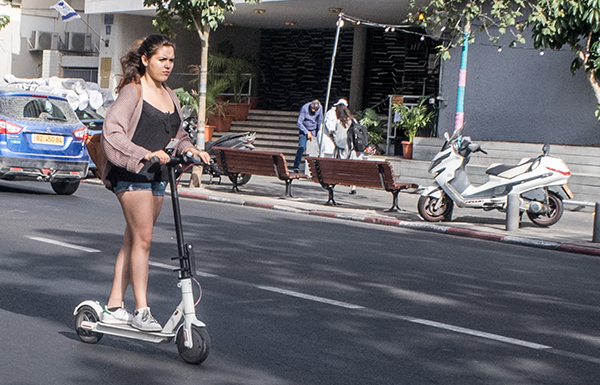 P.S. It was easy to pick just four images to show scootermania in Tel Aviv.
Enjoy and Share.