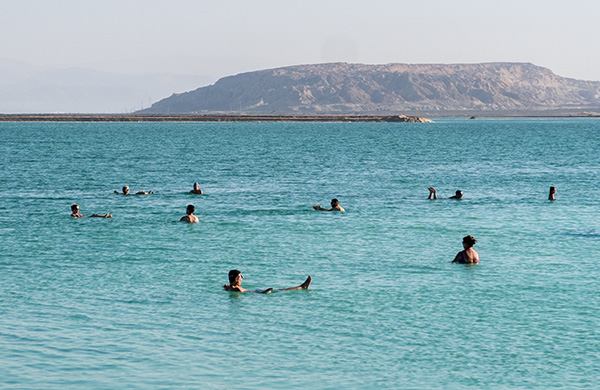 February is a perfect time to start planning for summer or fall vacations (unless, of course, you started earlier).  For many, their travel plans are limited to two weeks, which might determine their destination.  My wife Elfa suggested two possible ideas – a river cruise to Portugal or a trip to Iceland.  Will keep you posted.  Meanwhile, I want to encourage you – if you've never been, to travel to Israel.  If you have been reading my Encounters, you know it was our destination last year, and I already wrote a number of stories about this trip.  Israel is a relatively small country, but there are many attractive places to visit and to have wonderful experiences.  One of them is the Dead Sea, which is the earth's lowest elevation located 1.412 ft below sea level.  It is also the world's saltiest body of water with a salinity of 34.2%.  In Hebrew, the name "Yam-ha-Melah" means Sea of Salt.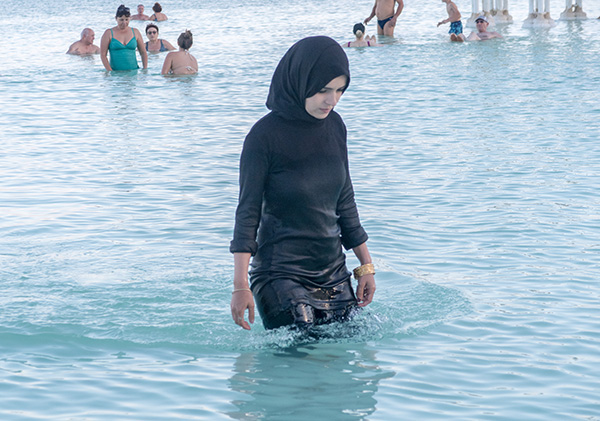 The Dead Sea has attracted visitors for thousands of years.  It is called "dead" because its salinity prevents macroscopic aquatic organisms, such as fish and aquatic plants from living in it.  Actually in this case, the "dead" is good.  It was one of the world's first resorts for at least two thousand years. Besides, the salt from the Sea was used as fertilizers and to create cosmetics.  On the website Deadsea.com I found out that in the Roman Era salt was a highly-valued strictly controlled commodity, more so than gold or silver, and was used as labors' salary.  However, the reason for our trip was not to learn its history, but to relax and to enjoy special treatments.  It took us two hours to drive there from Tel Aviv (and about the same time to drive from there to Jerusalem).  The road was twisting along sandy dunes.  The air became hot and dry, and we suddenly saw the Dead Sea from a cliff, with the sign pointing to the Biblical place called Sodom; it was like seeing a mirage. Soon we arrived to our destination — a developed area with six high-rise hotels.  We stayed in the Crowne Plaza, which is very close to the beach.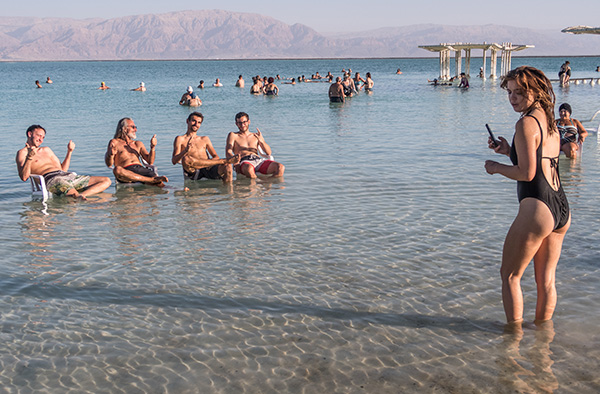 The next two days were very relaxing.  We received mud wrapping, got massages, dipped into a swimming pool filled with salty water, lay out by the swimming pool, and of course walked in the Dead Sea, since it is not easy to swim there.  One of the attractions of any hotel in Israel is their breakfasts.  The buffet service has enormous amounts of cheese, herring, fruit, vegetables, hot dishes and desserts.  It felt as if we were on a cruise (with the advantage of having a larger room).  At night I saw the lights on other side of the Sea, which was in Jordan.  Israel and Jordan signed a peace treaty on October 26, 1994, and have diplomatic relations with economic cooperation.  They work together to save the Dead Sea from drying up.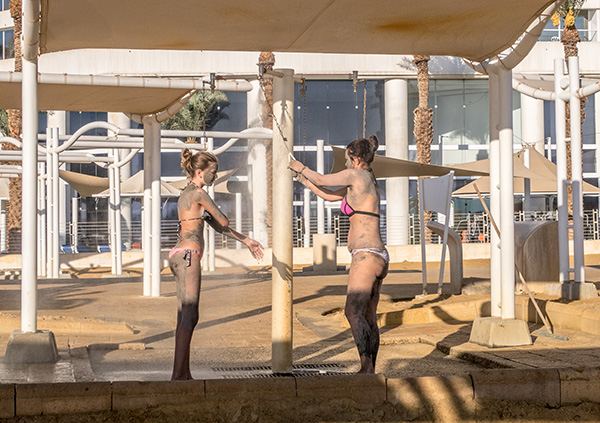 On our next trip to Israel, we are also planning to visit Petra – an ancient Red Rose City located in Jordan.
P.S. These four images show some of my encounters at the resort.