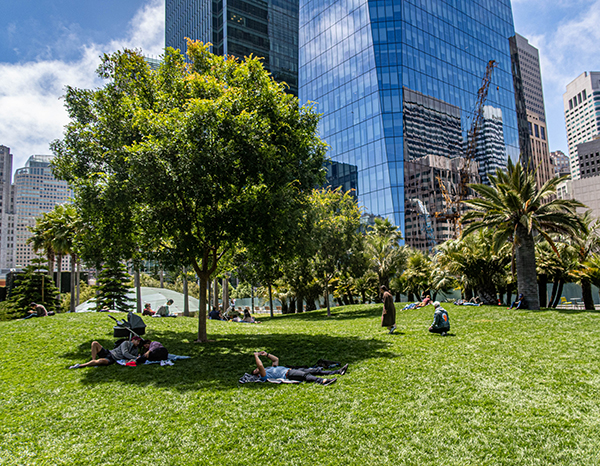 I had no idea where it is either, and I imagine most San Franciscans hadn't either. I first read about it in an article by Carl Nolte, who is a regular contributor to the Sunday SF Chronicle. On July 14th, 2019 the article titled, "Neighborhoods renamed, but history remains" informed the readers that the last time an area in our city was renamed was in 1847, when Yerba Buena was rechristened San Francisco.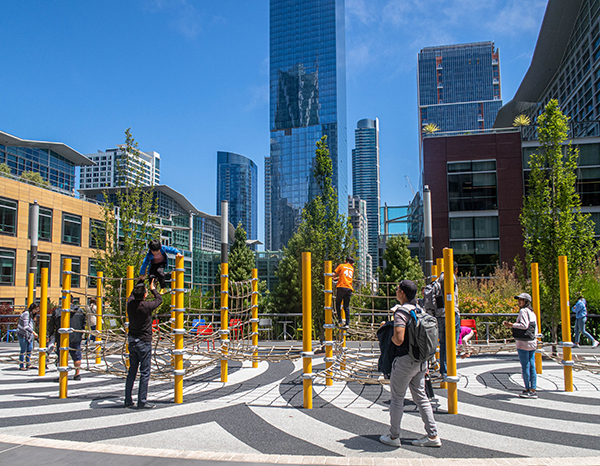 This time, a part of the neighborhood known as SOMA (South of Market), got a new name: "Start at the East Cutand end up at Thrive City. It's only about 2 miles. Right through a new world. To start with, the names will baffle a lot of San Franciscans." I guess it was important to name the part of San Francisco which represents the new important face of our city – the technology hub, but also the new bus terminal, and the urban garden on its roof. The article prompted my interest to visit the park named Salesforce Park. The official address of the bus terminal is 425 Mission Street. So on Sunday afternoon, we took Max and drove there. We were lucky to find parking on Fremont Street, not far from the Park. The elevator took us to the fourth floor. From Mission Street, visitors can also "get to the park with a ride on a gondola– a boxy car slung below steelcables". And suddenly we arrived into a different world. From the congestion of the high-rise building, we stepped out into the garden. The place reminded me of the High Line elevated park in New York, which opened in 2009. Perhaps by coincidence, San Francisco's Golden Gate Park, which opened in 1871, was modeled after New York's Central Park, which opened in 1857.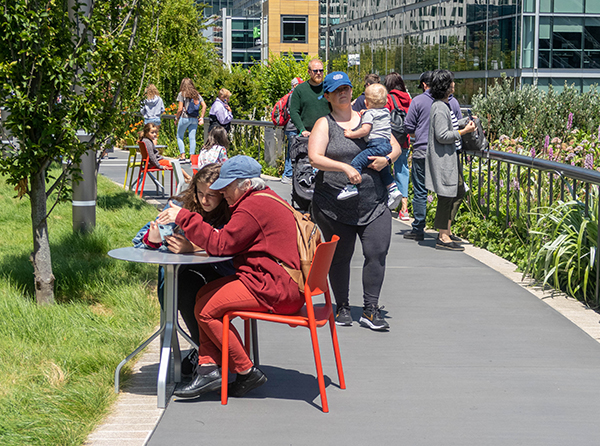 What makes the Park unique is that it is surrounded by San Francisco's major technology companies. The new Salesforce Tower is located at 415 Mission, and I was told that its 6,600 employees occupy three other neighboring buildings as well. The company paid $110 million for a 25-year sponsorship to have the name of the park be Salesforce Park as well as Salesforce Transit Center. Another giant company, Facebook, is located next door at 181 Fremont. Thanks to them and San Francisco's urban planners, people who live in the East Cut can enjoy a beautiful oasis.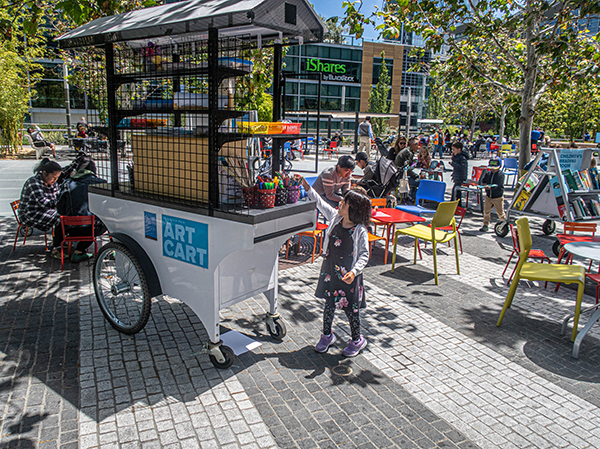 P.S. While walking around the park, we saw a children's playground, a place to sit and relax, and even a library. To keep the place orderly and clean, there are many "ambassadors" in yellow jackets. One of them, seeing Max, asked if he is a service dog (he is, since I secured my "Emotional support Animal" card for him). What I think is lacking in the park is a playground for dogs, since there is no other place in downtown for dog lovers to enjoy their companions. You can see more dog lovers in San Francisco in my photo-story book "42 Encounters with Dog Lovers, buy it on Amazon.com.
These four images are my encounters in the park.
Enjoy and Share with a Friend.