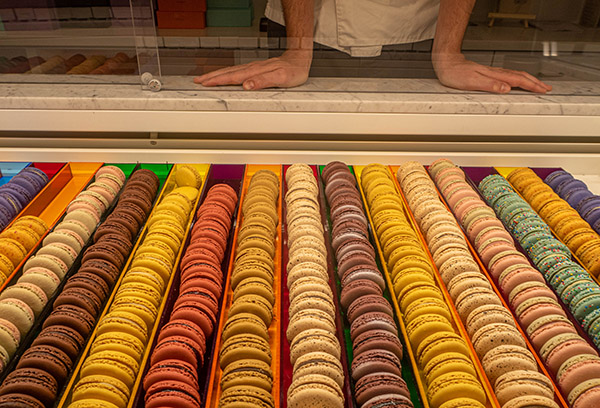 There are 4,415 restaurants in San Francisco, which outnumber every city in America. Fifty-four of them have the highest honor Michelin stars. This information above, which I found online, is from 2018, and does not include my new discovery – "One 65", which opened only recently. A few weeks ago I was meeting a business acquaintance for a cup of tea/coffee, downtown. We planned to meet at Starbucks on Powell Street; however, instead we ended at a coffee/pastry shop at 165 O'Farrell. I have never been there before and was drawn by the attractive pastries, which I usually try not to eat, but for my photographic eye, it was a delicious view. I ordered a hot chocolate and yes – we shared a dessert. Suddenly a man appeared dressed in dark suit and tie. I introduced myself, and shared my appreciation. The man turned out to be the General Manager, Oliver de Roany, who introduced me to the head of the establishment, Michelin Star and James Beard Award Winner, Chef Claude Le Tonic, who last ran Joel Robschon's three Michel's star restaurant in Las Vegas. Mr. de Roany told me that the owners bought the dilapidated 6-story building across from Macy's three years ago. It was the time when due to the never ending road work and closure of Sutter Street, many stores were financially suffering and leaving the area. The decision was to convert the building into a six story eating experience with French flair. We took the elevator to the sixth floor where the main kitchen is located with special rooms for small parties and a chef's dining experience. From there, we went down to a restaurant called O' by Claude Le Tohic, and below that was a bar and lounge and a Bistro, and I almost forgot to mention the rooms for private parties and the chocolate that was being made in front of our own eyes. They also make their own bread and their own ice-cream, which you can buy on the ground floor.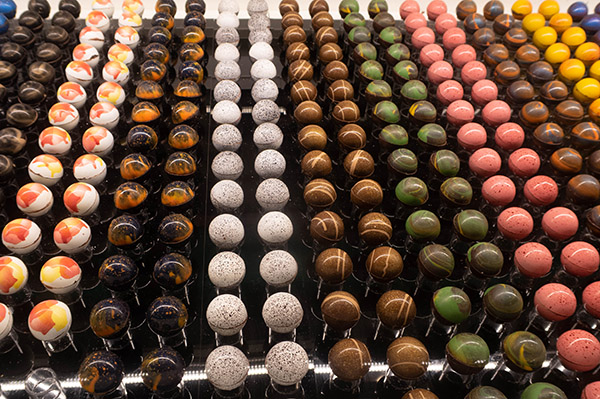 After the tour, I decided to surprise my wife and bring her here for our 52nd wedding anniversary, which was last Thursday, August 8th. The restaurant is conveniently located next to the O'Farrell/Ellis garage.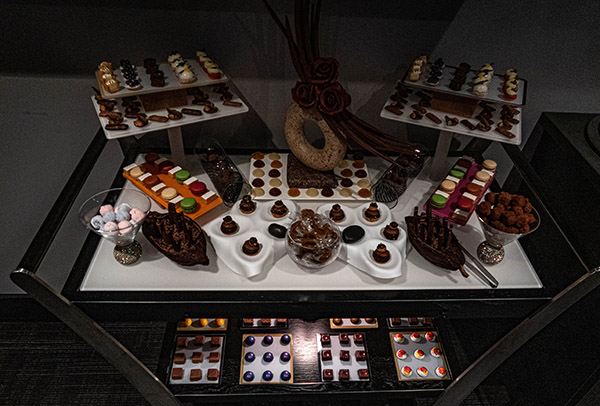 When I made a reservation, I did not know the difference, and we ended up in the Bistro. The food was delicious and since we did not drink any wine and shared some of the dishes (but we had two desserts), the price tag was reasonable. After dinner we went upstairs to see the rest of the place. When I made a reservation, I thought that we were supposedly to be in O' restaurant. It wasn't until I saw the menu — a 10 course prefixed dinner, starting at $250. They also have an a la carte menu. (I do not think I can handle more than three courses). We will definitely come back with friends for another celebration. Regardless of your budget, I strongly recommend "One65". You can start as I did, from the first floor.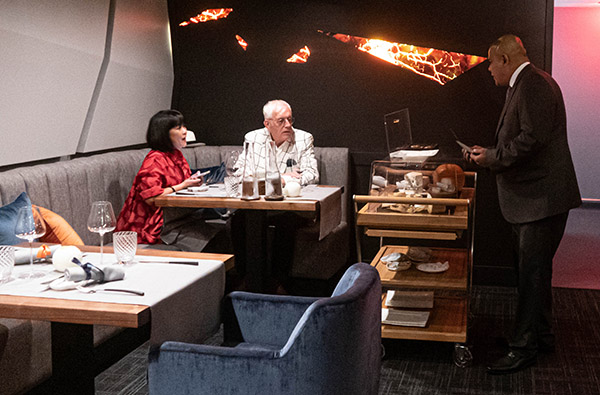 P.S. Online I found a lot of information about the place and photos of the meals. My four images show the sweet part of the experience, and do not forget to check out the cheeses.
Enjoy and Share with a Friend.