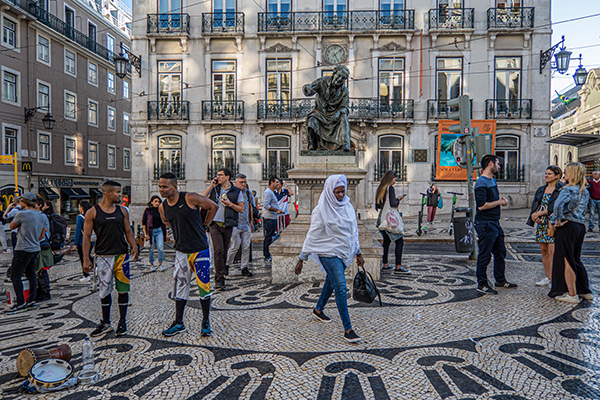 If you 've been in Portugal, you probably noticed that locals call their capital Lisboa. On our recent trip there, we met quite a few people who also speak Russian. Our first taxi driver, who drove us from the airport to our hotel, was from Ukraine, barely spoke Portuguese, and managed by speaking English. Since Portugal is part of the EU (European Union), it became the place that attracts people from many parts of the world, including Africa, which Portugal colonized in 1418. Portugal's colonial history is fascinating and lasted from 1415 till 1999, when Macau was returned to China. Portuguese are very proud of their sea explorer Vasco de Gama, who reached India in 1495. They even named a new bridge in his honor. As an historical irony, in our times, Portugal is considered one of the poorest (but economically fast improving) countries in the Western Europe, which is impossible to guess after spending seven days here.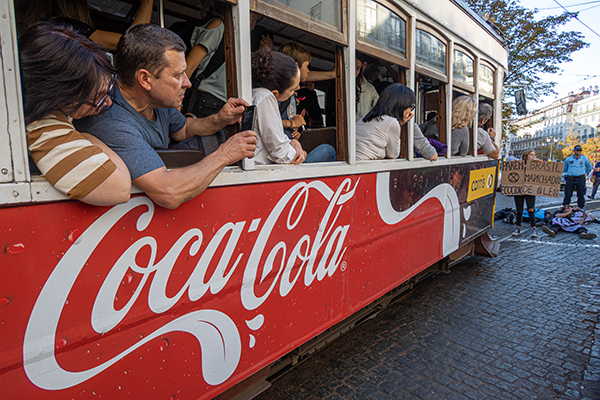 I started writing this story on the first day after our arrival. However it took me a few days to finish, since every day we returned to our hotel room exhausted after hours of walking. My day usually started at about seven. Our hotel was located in the center (an area called Baixa, which means downtown), a five-minute walk from the river Tagus in the foothill of the old town, which was built on seven hills. Walking up the cobbled stone covered roads for two hours every morning, I explored different neighborhoods, getting lost, and then after returning to our hotel, I showed off my knowledge to Elfa. I used the map only to show locals where my hotel was, since the streets are very confusing.
We started our acquaintance with this city with a population of about three million (including the surrounding areas), by exploring with the hop-on-hop off Yellow Bus. It has an open area on the top and since the weather was very pleasant, we enjoyed our sightseeing. There are four bus routes plus the Yellow Boat. Over three days we saw the majority of what there was there to see. We also visited an incredible art collection in the Calouste Gulbenkian Museum, and did some shopping in the Porte Englese, a shopping mall owned by a Spanish company. Around the corner from our hotel was an area with many restaurants with outdoor seating. Some of them served very good food. We also ate at the Time Out Market, where locals bring fish, which were swimming just a few hours ago. We had delicious ice cream almost every day (walking helped to burn the calories). We listened to local Fado music, performed in many venues. We relaxed in many parks; I bought five books about Lisbon, since I am considering writing my own photo-book about the experience; but for that I have to return. It was tiring to walk for many hours, but we had a very good time. Some compare Lisbon with San Francisco, but I will write about that next time.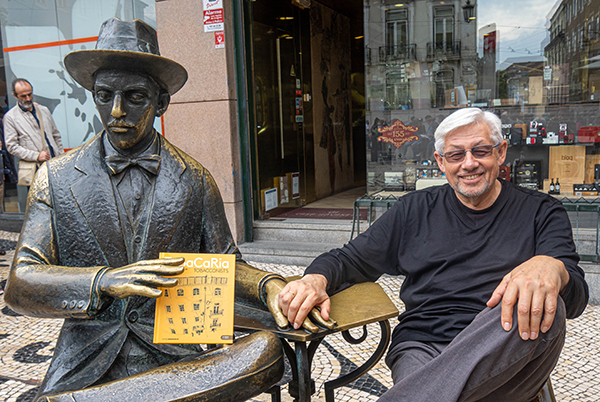 P.S. It was difficult for me to decide which one out of over 1200 images to share with you.
What you see: a concert in a private home, protesters blocking the tram by laying on the rails, one on the squares with a beautiful paved road, and my appearance next to the statue of Fernando Pessoa – a famous writer and poet (I bought three of his books in English). My wife Elfa took this image.
Enjoy and Share with A Friend!