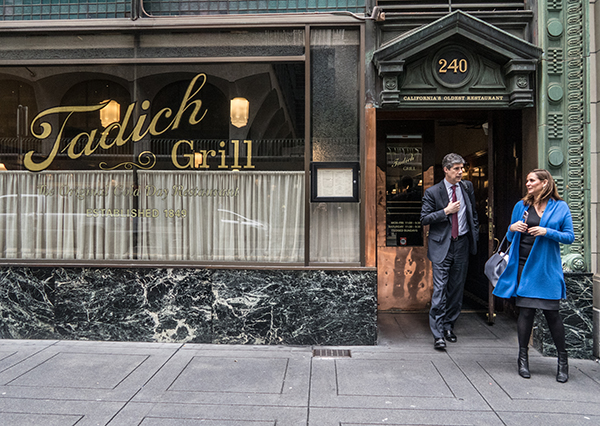 Last week we were invited to an unusual birthday party. Zuni Café celebrated their 40th birthday.  It was packed with about 600 appreciative guests.
We had our first meal at Zuni about thirty years ago.  Our office was not far from the restaurant and we discovered a place which always serves good food.  The restaurant was founded in 1979, however, when in 1987 the influential chef Judy Rogers took over it, she shifted the menu from Southwestern (the restaurant is named after the Zuni tribe in New Mexico), and turned it into one of the historic landmarks of California cuisine.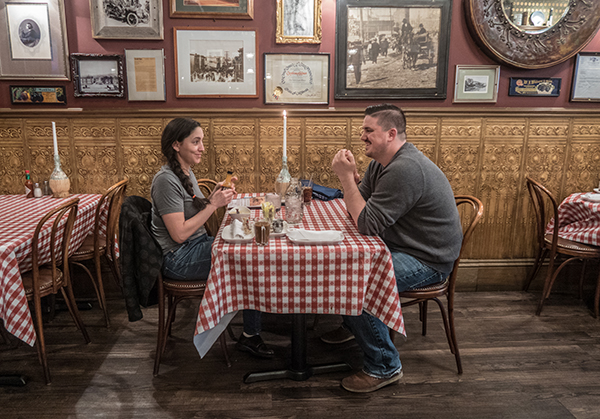 Many years ago, I decided to have our morning staff meeting at Zuni (at that time it was serving breakfast). When I called for a reservation, I was told that breakfast was first come, first serve.  I came fifteen minutes earlier, but there were people at different tables.  We needed twelve seats together.  My solution was simple – I told everyone my plan and asked people to move around. The hostess was upset and told me that I was not allowed to move tables around.  Guess what?  At the end everyone was happy, our meeting took place, and since then, everyone in the restaurant knew Manny.  It helps when I need to get a reservation.  Of course it also helps that we often come here for lunches and dinners, and bring our friends and family to celebrate special events in our lives.  The restaurant is now owned by Executive Chef Gilbert Pilgrim, with whom through the years we have developed a great friendship. Zuni received the prestigious James Beard Award for "Outstanding Service" in 2018.
Online I found that "According to the San Francisco Fact Sheet, there are 4,415 restaurants in San Francisco. 54 of those restaurants have Michelin stars".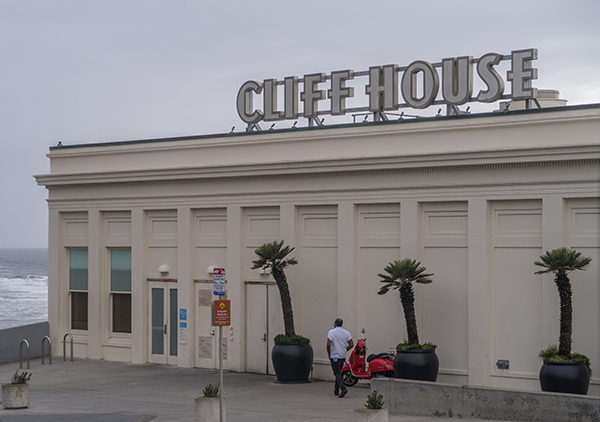 At the same time, many restaurants cannot survive.  This happens for various reasons; some of which were mentioned in the article "Why San Francisco Restaurants are Closing". Therefore, I was surprised to find online "The Oldest Restaurants in San Francisco". The list is of eight restaurants, which go back to 1849, and are still serving customers today. What's remarkable is their locations. From Tadich Grill on California Street, which is one of the most authentic San Franciscan restaurants in the city, which served hungry gold diggers, to the Old Clam House on the Bayshore Boulevard, which has been serving local workers since 1861. It is difficult to imagine, but Bayshore Boulevard actually was on a bayshore, and there was a two-mile long wooden plank road from downtown. The Cliff House, which was established in 1863, continues to delight its guests with stunning views of the ocean. Fior D'Italia,was established in 1886, making it the oldest Italian restaurant in the entire the United States.
Having Max in our lives has changed our eating out habits.  We do not go out that often.  When we go to eat with Max, we prefer restaurants with outdoor seating.  But we still go to Zuni Café whenever we can.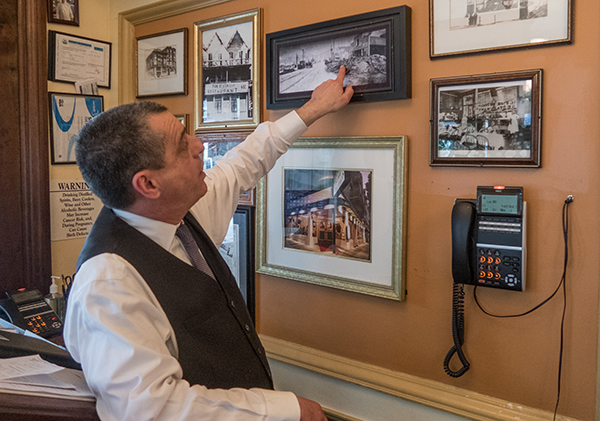 P.S. For these images, I decided to visit four "old" restaurants and you can see the results.