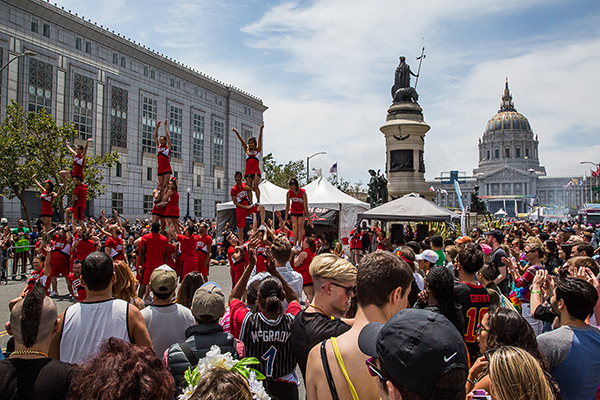 A few weeks ago we were planning to have dinner at our favorite restaurant, Zuni Café with friends who live in Mountain View. My friend called concerned about the traffic congestion because of some events in Downtown San Francisco that day. I had no idea what he was talking about, but when I opened the San Francisco Chronicle, I learned about the events that would take place over the coming weekend that my friend was referring to. On Friday, June 23rd was the TransMarch, the following day was the Diversity Celebration in front of City Hall and the Dyke March in Dolores Park. All of those events were preludes to Sunday's 47th annual Gay Pride Parade.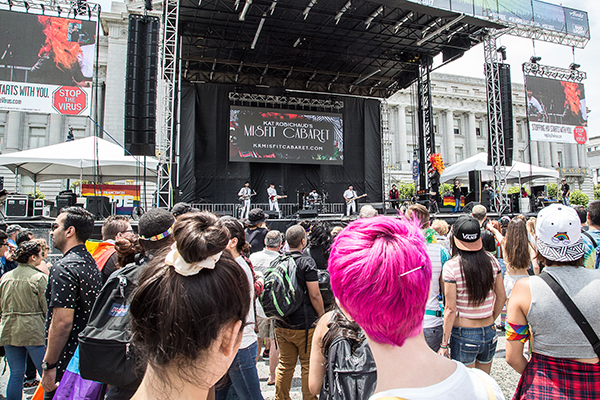 San Francisco's 6.2 percent of those who identify as lesbian, gay, bisexual or transgender (LGBT) is the highest in the United States. This year the Pride Parade was a celebration of diversity, and a demand for equality; it had a record breaking 250 contingents marching this year, and the SF Pride Director said that a million people were attending the event. Some avoided it because it became too much of a commercial and corporate event. This year I stayed away. My excuse was that I had a client in the office, and I was tired of my excursion from the day before.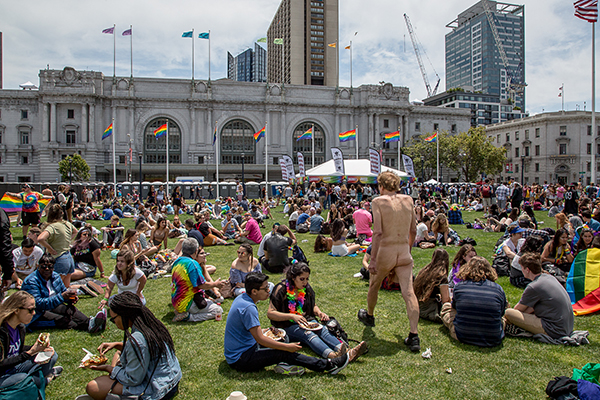 I was planning to go to Dolores Park to photograph the Dyke March, but on the way there, while in the underground Muni train, I decided to follow a group of young people who were dressed up and looking joyful. When I came out at the Civic Center station, I encountered many celebrants. Vendors were selling food and multicolor flags. Some were having picnics on the lawn. Music was blasting and people were dancing.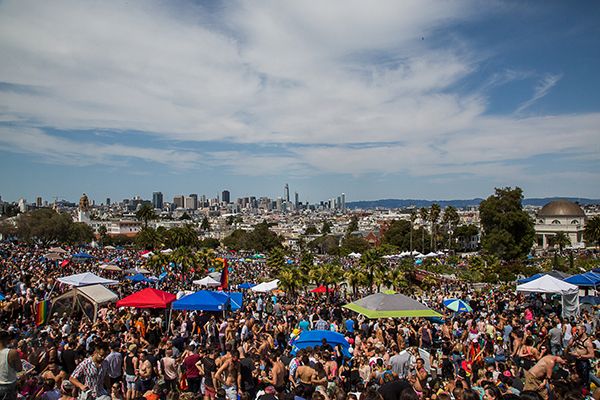 After taking enough images, I decided to walk to my original destination – Dolores Park, which is regularly full of people on the weekends. This time, because of the Dyke March, it was difficult to walk through. Turned out that besides the "Dykes on Bikes", whom you could see in the Gay Pride Parade, the SF Dyke March Rally is an annual event which brings together upward of 50,000 members of the LGBTQ community, and the first nationwide event took place in Washington DC in April, 1993. Now it is celebrated in other countries as well. My friend was right – because of all the celebrations, many streets were blocked, but it seemed that it did not stop people from getting together and having a good time, and for me to snap a few images.
P.S. I tried to choose four images to give you a sense and the scope of the huge crowds. If you are interested, you can find more images online.
Enjoy and Share
Do Not Keep Me As A Secret!
Smile And Please SHARE It With A Friend!
Cheers,