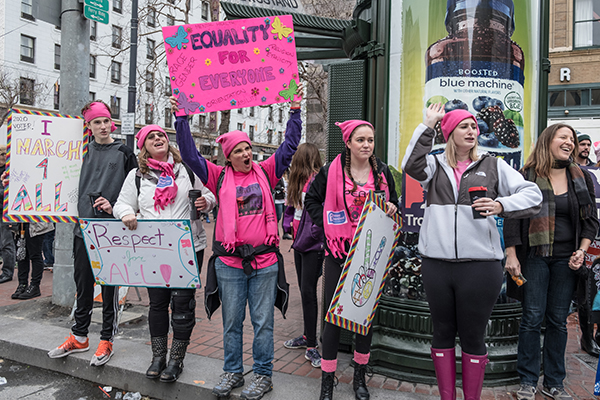 Last Friday I met with new clients; a couple, who are originally from France. The wife, who was driving from Marin, was delayed by an anti-Trump demonstration at the Golden Gate Bridge. "What do those people want?" she asked. "They have a new President, nothing can be changed right now." Hearing that, I pointed out that in France people demonstrate all the time. "Yes, but they have very specific demands, they know what they want", she replied.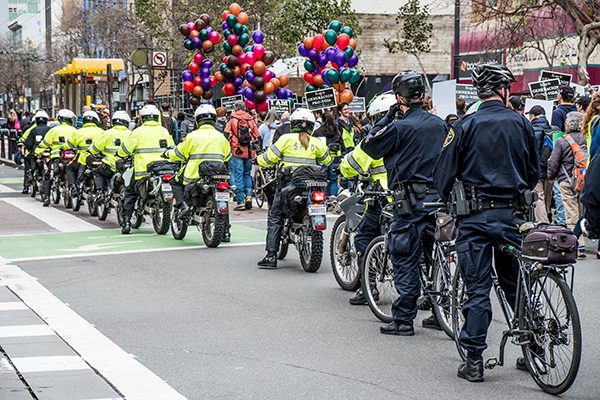 I thought about this conversation the next day. I decided to take the Muni train downtown to try out my new camera that Elfa got me for my 70th Birthday. On the way there, I learned that there would be a demonstration starting from Civic Center, so this information determined my destination. Thousands of people gathered to listen to inspiring speeches in front of City Hall, and moved along Market Street carrying printed placards – some of which read, "I Am Pro-Life Generation" in both English and Spanish and "Choose Life" and "Defend Life". They were greeted by a smaller group of protesters on the sidewalk with homemade placards that read, "My Body, My Choice." A few held signs that read "Obstruct Trump" and "We Shall Overcome". It turned out this was just a warm-up demonstration. The real one, the "Women's March" was starting at 3pm. When I returned to Civic Center, it was swelling with masses of people. The rain started to fall, and I had enough images for my story, so I decided to head back home. The Muni trains arrived at the station with masses of people pouring out. Many people wore knitted pink hats and carried placards in their hands and rushed to join the crowd. The Women's March organizers began planning the event on November 9, 2016, the day after Election Day, in reaction to Trump getting elected and his political views.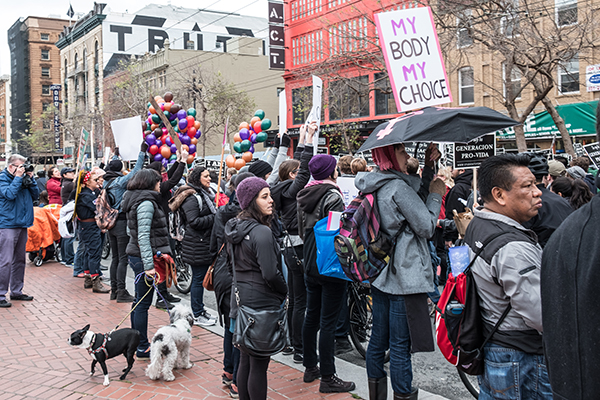 On January 12, the Women's March organizers released a policy platform addressing reproductive rights, immigration reform, religious discrimination, LGBTQ rights and racial inequities, workers' rights and other issues.
All of those issues are very important, however to accomplish those mostly social rights, the new Presidential administration has to work on solving many issues, which I am sure, everyone wants to be solved as well. A stable economy, low mortgage rates, a good comfortable life, employment, secure borders, equality for everyone, good roads, good education for children, respect for all. The list can go on and on. To accomplish all of those above we have a new government. We might not like the person in charge or his views, but we have no choice other than to give him a chance. We have four years to evaluate the results. Until then, work hard to fulfill your own wants and desires.