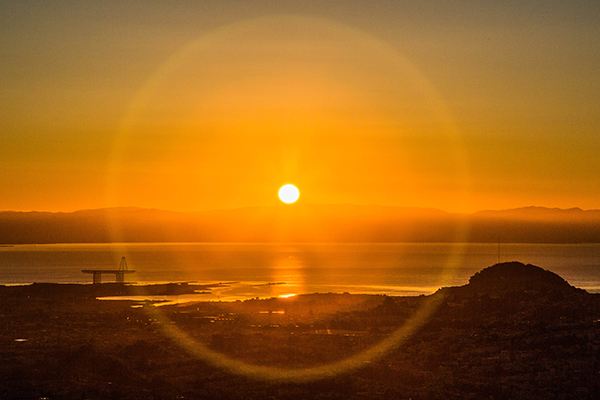 Three months ago I decided to share my experiences from the streets of our beautiful city with you. After a recent visit to Mt. Davidson, which I wrote about a few weeks ago, I decided to add it to my list of special places. Since we live close to this nature wonder, I often walk up there early on weekend mornings, to witness the sunrise.
Mount Davidson is the highest natural point in our city with an elevation of 928 feet. It is one of the "Seven Hills"; San Francisco is known for – Telegraph Hill, Nob Hill, Russian Hill, Ricon Hill, Twin Peaks, Mount Davidson and Lone Mountain or Mount Sutro (I will share stories and images with you about those in the future). There are actually 43 hills in San Francisco, each offering great views of the city. It is not surprising that real estate prices in those areas are so high, since the views command higher prices. But let's go back to our original destination. Before Adolf Sutro (who deserves his own special story) purchased the land in 1881, it was called "Blue Mountain". It was renamed for George Davidson, who among many other accomplishments was the president of the California Academy of Sciences. In 1911 Sutro's appraiser, A.S. Baldwin, bought this land from his heirs and began plans to develop Forest Hill, St. Francis Wood, Westwood Park, Balboa Terrace and Monterey Heights, where our house was built in 1928.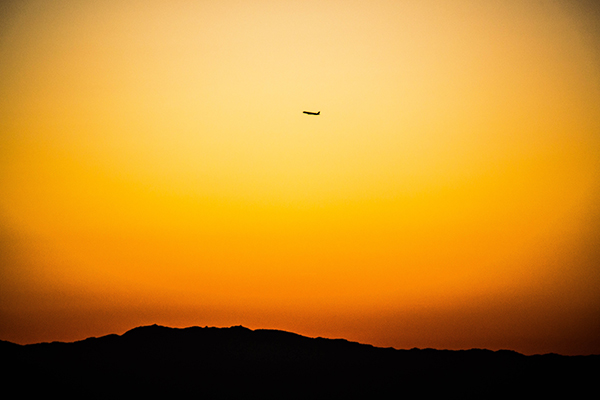 Mount Davidson Park is located near the geographical center of the city. It can be reached by the 36 Teresita Muni Line, if you prefer not to drive, or by foot, if you do not mind walking up the steep hill. In 1923 a wooden cross was erected on the top of the hill, only to be burned down. It was replaced and burned down again. In 1929, 20 acres at the top of Mount Davidson was purchased by the City of San Francisco for use as a park. After a number of crosses were burned down in 1934, the 103-foot high concrete and steel cross became a permanent fixture. This area holds Sunrise Services every Easter. In 1991 a number of organizations sued the City over the ownership of the cross. Instead of the demolition of this historical monument, it was sold for $26,000 to the Council of Armenian American Organizations of Northern California, which installed a bronze plaque at the base to honor the victims of the 1915 Armenian genocide.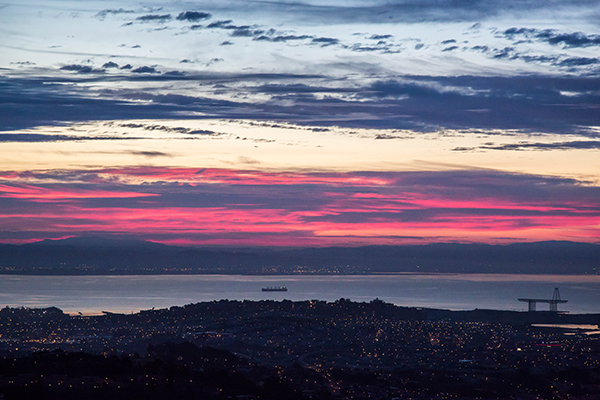 Unlike other hills, Mount Davidson does not have many visitors (except, of course, on Easter). I usually only meet some of our neighbors there, who come to this beautiful place with their dogs. It is often covered by fog; but when the sky is clear, it offers panoramic views from downtown to the hills of San Bruno. When I get there, it is still dark, but then gradually the sky grows brighter, eliminating the hills on the other side of San Francisco Bay, from where his majesty the Sun makes his daily appearances every morning. Enjoy and Share.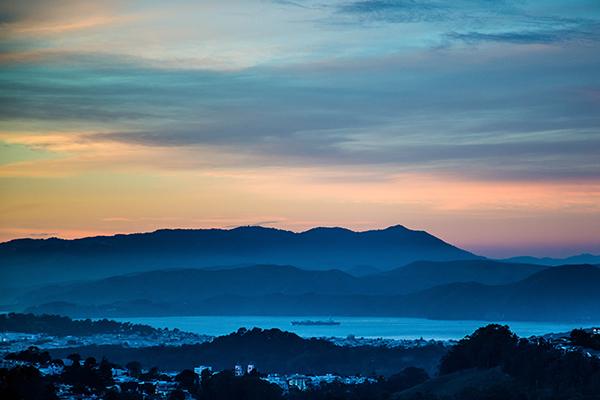 P.S. Please let me know if you want to join me on one of my walks to Mount Davidson. As the days get shorter, it can be after 6 am. Until then, please enjoy these four images of the beautiful sunrise. In the future, I might put together a book of the sunrise images I've taken all over the world. Meanwhile, please buy "42 Encounters in San Francisco" at encounterspublishing.com. This is an endorsement that I received from one of my readers, Marc Litton.
Dear Manny,
I thoroughly enjoyed reading your book and marveling at the pictures. I really think you captured San Francisco as San Franciscans know this great city. Great, as you clearly know, because of its wonderful diversity and rich cultural history. What I really enjoyed most was your melding of serendipitous thoughts on your subjects with quintessential aspects of the city. It was like enjoying a delightful dream, which I guess, from your comments, is how you view life in this city. I also think it was important to work a picture of yourself in your book and I was happy to see it on the last page. I can't wait to see your next installment.
 Cheers, Marc
Do Not Keep Me As A Secret!
Smile And Please SHARE It With A Friend!
Cheers,